Salamz..
last week I have been to Gunung Nuang.. I friend come to me and ask me to guide a group to Gunung Nuang. Actually i really reluctant to go, with a lot of works with Budihost, i have no camping gear with me (all with my younger sister (she bring to Gunung Tahan the previous month), no shoe, no bag, and its been a long time since last expedition, and the next will be just a few days ahead.
They need 2 person to be with them.. I ask all my friends to come with me, but most of them still have exams. At last only 2 person are available, and they are girls. Well, I can only have them. So, altogether we are 3, even they pay is just for 2 person. I dont mind about that. It also a chance me to go camping..
It was a really bad experience. I had pain at my leg along the way up to Lolo camp on the first day. Then i remember, it was my first expedition after i had an accident in March. After around 1 hour hiking, the pain gone. But still, it was really exhausting.
This time I just be a guide for them. Not much activity were organized.
This was a time where i can see other people in another sector. They are staff at an agency i n Prudential Insurance. They are a recreation club within the agency. Ya, i learned something in insurance business.
I always heard some people says, you can see the actual behaviour of a person when you'e on an expidition. Well, it might be true. I know you can understand what i mean from it. You can try, join me in another trip! 🙂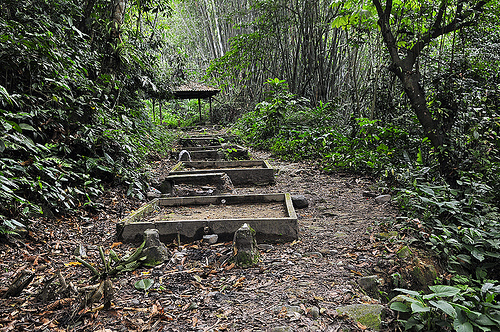 [Picture credit here]