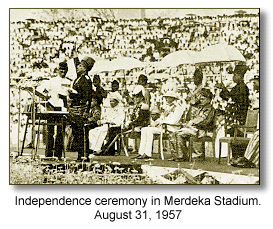 Happy Merdeka Day!!
Merdeka! Merdeka! still can be heard today. Last night IIUM students also celebrating Merdeka Day in the campus. Many peoples were there, students, lecturers and many other people around the area.
Just few hours before the 12 o'clock, i was in KL, lift a friend to PuduRaya, balik kampung 🙂
There were many people in KL last night. I saw a family with their children planning to celebrate Merdeka in KL. It makes me remember, I was never being outside at night during my young ages.
I still agree that we still cannot know the value of Merdeka, since we have already been in all the harmony, and have all the peaceful life. How can be protect our country, without knowing the value of independence?
Peace be among the warriors, who strive for our independence.