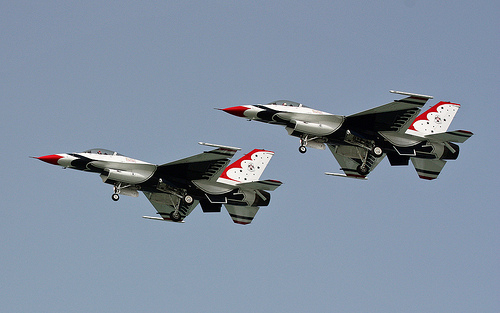 Picture grabbed from Zagispirit, taken at Townsville ADF Airshow
2009
Tomorrow (3rd Oct) there will be an aerobatic demonstration by USAF Thunderbirds and Malaysia Royal Air Force (RMAF) in RMAF Subang Air Base. This
joint event will highlights Thunderbird F-16 and C-17 Globemaster by USAF and also RMAF Sukhoi team.
The event will start at 1030 am, with C-17 demonstration, followed by RMAF Sukhoi airshow. USAF thunderbird airshow will start at 11.30am followed by
autograph signing by Thunderbirds Crew. This event will be open for public for free, and will be expecting huge crowds.
I wish I have my own camera to take the shots. Just enjoying the show la 🙂 You guys dont miss it!
Press release
href="http://malaysia.usembassy.gov/event_thunderbirds_093009announce.html">http://malaysia.usembassy.gov/event_thunderbirds_093009announce.html
http://www.bernama.com/bernama/v5/newsgeneral.php?id=441102