It has been known that advertising network has been used as a medium for malware writers to reach out to massive users base easily. They can simply inject the malicious URL into the system, making any website serving the ads will be serving the malicious links as well.
Last a few weeks, I had my website blocked by google safebrowsing API. The full-screen alert in red background, which scares my visitors away.
I quickly suspects my website have been compromised, followed by frequent attempts to exploit vulnerability and brute force attacks over the CMS used. The check goes from filesystem level for any backdoors, rough entry in database, rough entry of CMS options, but I could not find anything. Futher check at sitecheck.sucuri.com also does not reveal anything.
Later, wepawet revealed something. Wepawet scanned my page, and shows any redirection occurred on the page, and any remote reference to other sites, and Nuffnang ads appears redirecting my users to a malicious URL.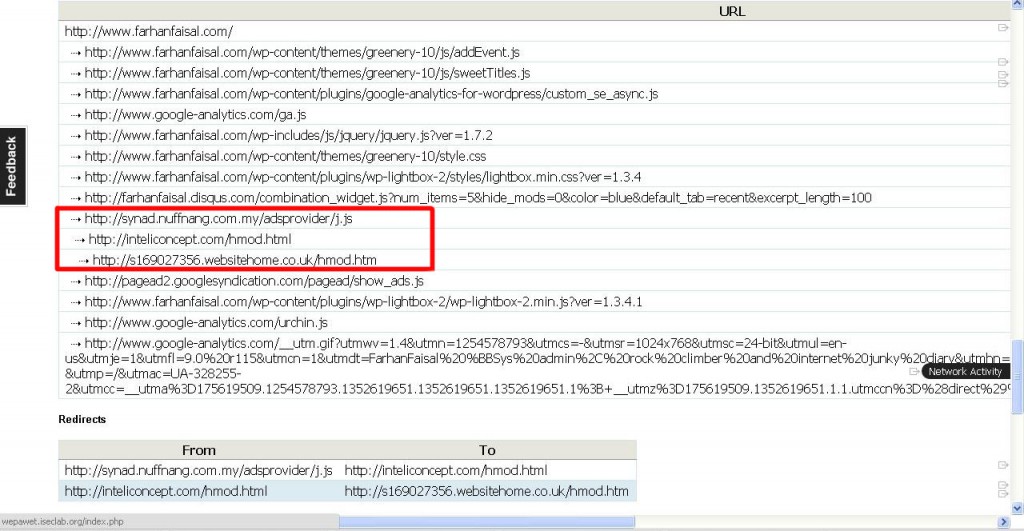 I've contacted Nuffnang regarding this, and they don't want to accept this at first. As for immediate action, I've removed Nuffnang Ads from my page. I didn't receive any earning from Nuffnang ads anyway, while I've made more than a few hundred dollars from this site through other advertising campaign.