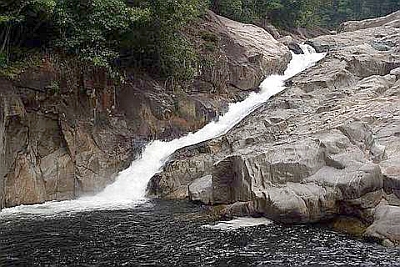 22 – 25 April 2006, I have joined University Kebangsaan Malaysia's trip to Sungai Tembat, Tasik Kenyir in Terengganu. The trip was organized for students who took recreation as their optional credited subject in UKM. Overall there were 60 of us, including trainers, supporting staff, and acompanying officer.
We took boat from Musang platform, about 30 minutes passed Pengkalan Gawi, and 500m meters walk. From Musang platform, it took us about 15 minutes to Sungai Tembat. The view accross the lake was very nice, with nice wheather, and a hill waiting in front of us. Upon reaching Tembat platform, we can already saw the waterfall ahead of us. Its was spectacular.
Overall, during those 3 days in Sungai Tembat, we spend the time for revising what they have learn in recreation class through presentation divided into 5 topics. They are first aid, rope and knots, camp craft, orienteering and water confidence. I was incharged for orienteering, and it gives me some time to know what they have learned, and share what I have, and also revising what they do not understand during class, such as map scale.
In Sungai Tembat, we also have abseiling activities, and some unofficial activities with other trainers 🙂 we do river crossing over a rapid and rock climbing. Sungai Tembat is a very good place for everyone to have some time out of city, especially for fishing. You should try fishing in Tasik Kenyir some times, the fish are really big and bite friendly 🙂